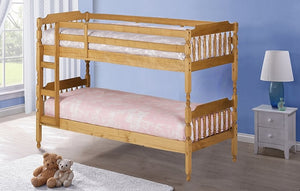 Colonial Spindle Pine Bunk Beds
Solid Pine

Traditional Style Headboards
Antique Wax Finish
Complete with wooden slats and side rails
2'6 version also available
Under Drawers pictured not included-£119 a pair
Delivery Info...
Local Customers
Delivered and assembled onsite. £10 local delivery.
Customers are welcome to collect.
Nationwide Customers This product comes boxed flatpack for home assembly and is delivered via national courier. Standard courier delivery starts from £10 to standard UK postcodes.
Price stated includes VAT
Delivery Info
Delivery time
1-2 weeks
Delivery type
Fully Assembled
Local Delivery
£15 local delivery or customers are welcome to collect.
Nationwide Delivery
Delivered fully assembled, via national courier or pallet delivery
£15 delivery charge or free delivery for orders over £500
Our Price Promise
We constantly monitor pricing to ensure you are getting the best value for money. But if you can find an identical product cheaper elsewhere, either instore or online (including Amazon & eBay), please do get in touch and let us know. If it's a genuine offer, 99% of the time we'll be able to match or beat it!
First Class Customer Care